Class Details
The who, what, where and when of your chosen class.
---
Class Summary
0 places left
at 4 sessions
Most children love Rugbytots, but if you find after your first two sessions that it's not for you, we'll give you a full refund, including the classes you've attended and the Welcome Pack. Learn more in our FAQ.
This class is run by:
Rugbytots North East
Call 087 346 5742 or Email us
This class takes place at:
Darver Community Centre
Darver, Castlebellingham, Co. Louth, A91 AF54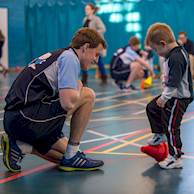 Meet the coach
Welcome to Rugbytots, we look forward to meeting you and giving you a fun and friendly introduction to Rugby in a positive and encouraging environment. Let's make it more fun!
---
Class Calendar
Session #1
Sunday
6 Nov 2022
Session #2
Sunday
13 Nov 2022
Session #3
Sunday
20 Nov 2022
No class
Sunday
27 Nov 2022
Session #5
Sunday
4 Dec 2022
Session #6
Sunday
11 Dec 2022
No class
Sunday
18 Dec 2022
No class
Sunday
25 Dec 2022
No class
Sunday
1 Jan 2023
Session #10
Sunday
8 Jan 2023
Session #11
Sunday
15 Jan 2023