Class Details
The who, what, where and when of your chosen class.
---
Class Summary
19 Sep 2020 - 16 Jan 2021
19 Sep 2020 - 16 Jan 2021
0 places left
at 7 sessions
Most children love Rugbytots, but if you find after your first two sessions that it's not for you, we'll give you a full refund, including the classes you've attended and the Welcome Pack. Learn more in our FAQ.
This class is run by:
Rugbytots Ireland
Call 086 - 839 0818 or Email us
This class takes place at:
The Mill - Celbridge Community Centre (Indoors)
Main Street, Celbridge, Co. Kildare, Kildare, W23 P6P5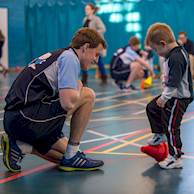 Duran Krummeck
Coach Duran is an energetic coach with more than enough experience in coaching and playing rugby. He will ensure that your child is learning the right techniques. But most of all will ensure that they do it in a fun and safe way.
---
Class Calendar
Session #1
Saturday
19 Sep 2020
Session #2
Saturday
26 Sep 2020
Session #3
Saturday
3 Oct 2020
Session #4
Saturday
10 Oct 2020
Session #5
Saturday
17 Oct 2020
No class
Saturday
24 Oct 2020
No class
Saturday
31 Oct 2020
No class
Saturday
7 Nov 2020
No class
Saturday
14 Nov 2020
No class
Saturday
21 Nov 2020
No class
Saturday
28 Nov 2020
Session #12
Saturday
5 Dec 2020
Session #13
Saturday
12 Dec 2020
Session #14
Saturday
19 Dec 2020
Session #15
Saturday
26 Dec 2020
Session #16
Saturday
2 Jan 2021
Session #17
Saturday
9 Jan 2021
Session #18
Saturday
16 Jan 2021