Rugbytots for schools and nurseries
Make children's early years foundation in sport more fun!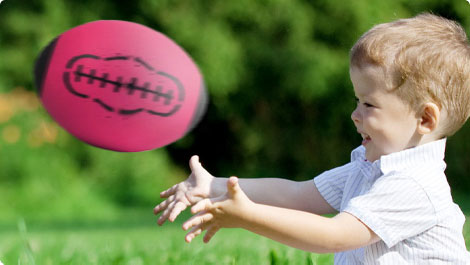 Developing children's skills for today, tomorrow and beyond
Promoting children's physical development and levels of activity are key aspects of our sessions in nurseries and schools.
And at the heart of every Rugbytots class is our determination to build children's confidence and self-esteem.
Acquiring new knowledge – and showing their understanding in areas of learning covered by the EYFS framework – also helps children develop skills that will benefit them in all aspects of life.

Rugbytots makes all of this more fun through an energetic and imaginative set of games and activities tailored to suit the specific educational needs of the age group taking part.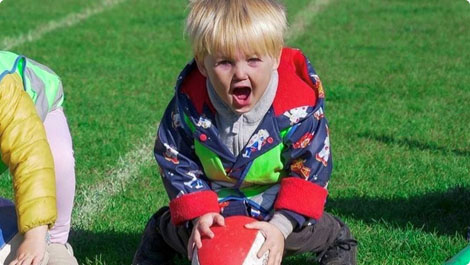 Rugbytots are a proven partner in early years settings
Rugbytots have been leading the way in fun, rugby-themed activities within the schools and nurseries since 2006. The Rugbytots Schools Programme is tailored to suit the needs of children in pre-school nursery up to year 2.
Our classes are well known for being creative and educational, and the demand for classes in nurseries and schools continues to increase.
Ready to kick things off? If you are an interested parent and would like to put us forward to your school or nursery, or you are a school or nursery and would like Rugbytots to provide a free taster class, just drop us an email!
Email Rugbytots
Andy Thornton, owner of Brambly House Montessori Nursery says...
"All of the staff and children at the nursery love having Rugbytots on a Friday morning! They are always so cheerful, it brightens up our day. The class is educational, energetic and so much fun. The children not only develop their physical and social skills but also reaffirm their knowledge and understanding of colours, numbers, counting, all whilst keeping fit! What isn't to love. Thank you Rugbytots. "
St Christopher's School & Nursery Epsom says...
"Rugbytots have been providing great after school clubs to our reception, year 1 and year 2 children for the last 10 years. The sessions are fun, active and the children learn some great skills. The coaches are clearly very experienced as they mix a fun-first approach whilst teaching the basic skills needed to play rugby. With after school clubs, children soon let us know if they like them or not, so it says a lot that Rugbytots have been here for so many years."